Description
HIGH TACK POLYESTER – MODIFIED ACRYLIC DOUBLE SIDED
High Adhesion & excellent shear strength.
Very good resistance to UV, extreme temperatures (- 40°c to +140°c), chemicals, solvents, humidity & plasticizers.
Excellent long life durability when attached to metal, varnish, plastics & high surface energy substrates.
Good durability bonding to low surface energy surfaces.
Versatile, economical high bond double sided tape.
Excellent attaching method for plastic trim, profiles, bars, signs & laminates. Suitable for use on most rubber, foam & wood substrates.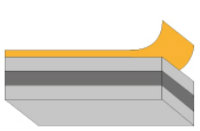 RELEASE LINER: PE PLASTIC
ADHESIVE: MODIFIED SOLVENT ACRYLIC
CARRIER:  CLEAR POLYESTER FILM
ADHESIVE: MODIFIED SOLVENT ACRYLIC
TOTAL THICKNESS: 210 MICRONS
FOR BONDING – SMOOTH TO STRUCTURED SURFACES
APPLICATION: PERMANENT