3M™ have simplified their range of every day Masking Tapes by establishing the Masking Made Simple Range. There are 5 tapes in this range, each differentiated by a unique colour to represent 5 levels of performance. See the chart below for a simple explanation of the 5 grades. Our biggest sellers are at the top of the range, being 501+, previously known as 233. The 501+ is a cream colour and it will have 501+ in the core for easy identification. Our next biggest seller is the 401+, or otherwise known as 233+. This is lime green in colour. The green 401+ is most commonly used in the automotive paint industry.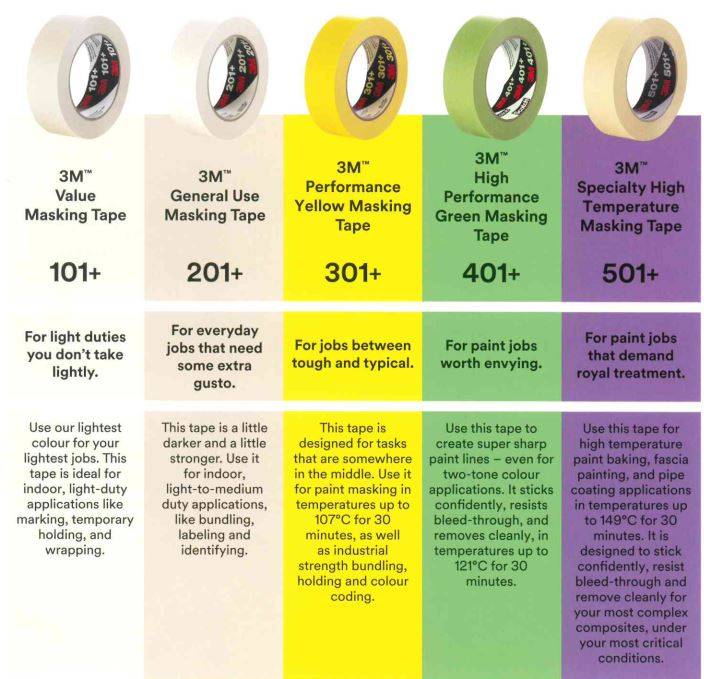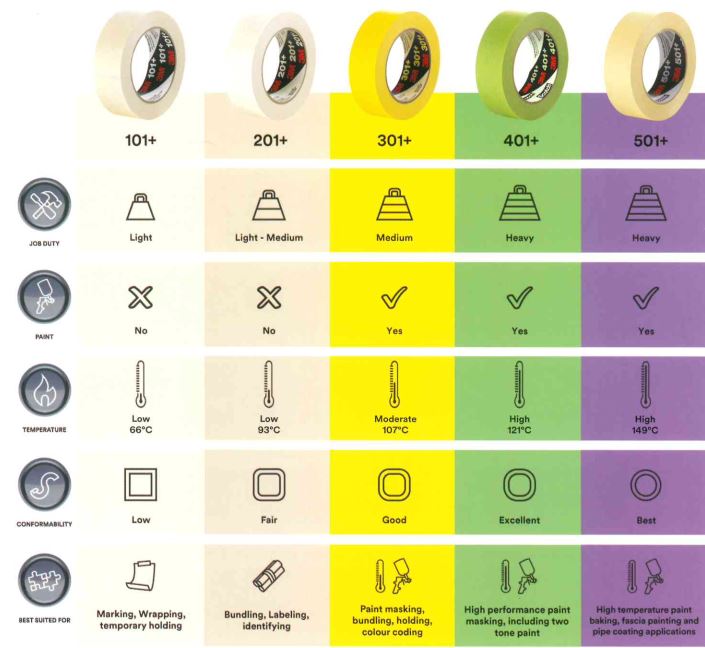 General Use Masking Tape 201+ is for general indoor applications for light-to-medium duty bundling such as wrapping electrical cords, and other light industrial items. You can write on it to create temporary labels, post signs, or mark boundaries. When the job is done, you can remove it without unwanted tearing or slivering. This versatile tape unwinds smoothly from the roll for good control and tears easily by hand. 3M™ General Use Masking Tape 201+ is a handy item in industrial settings, around the office and in the home.
3M developed the 3M™ Performance Yellow Masking Tape 301+ as an industrial strength masking tape that sticks instantly to most surfaces including metal, rubber, glass and plastic. It removes easily to create sharp paint lines. The tape remains in place when formed around corners, through contours, and over irregular surfaces without lifting or curling.
The strong crepe paper backing resists bleed through of most industrial paint systems and is also useful for bundling and holding. Its unique color also makes it ideal for marking and identifying. This tape sticks to most surfaces including metal, rubber, glass, and plastic and removes easily and cleanly in one piece. 301+ has a temperature use range up to 107°C for 30 minutes so that sharp paint lines can be created in room temperature or paint-bake operations.
The 3M™ High Performance Green Masking Tape 401+ was designed to deliver super-sharp paint lines where surface temperatures can reach up to 121 degrees C. This green crepe paper tape is ideal for critical paint masking applications in automotive, specialty vehicle, and industrial markets, where strong holding and high temp performance is required.
501+ or 233 is the premium high performance crepe paper masking tape designed to create super-sharp paint lines in most industrial painting situations, including high-temperature bake cycles of up to 300 degrees for 30 minutes, and provide clean, one piece removal. 3M™ High Temperature Masking Tape 501+ is conformable for easy masking around corners, over irregular surfaces, and offers easy handling that reduces application time.
Provides instant adhesion to metal and other surfaces and resists lifting or curling for super-sharp paint lines
Conforms and maintains integrity when formed around a corner
Backing is easy to tear, resists slivering and provides one piece removal
Smooth, controlled unwind dispenses evenly and is less likely to tear off roll
Tape is heat resistant for high-temperature paint-bake cycles
Remains in place around corners, over contours and irregular surfaces