Many of our customers are asking the question.  Do you have an environmentally friendly alternative to Bubblewrap? It all depends on the application you need it for. Do you use bubblewrap for protection or void fill?  There are options, of course!
Firstly, if you are using bubblewrap as a void fill, the best options available are;
 POPSTARCH – this is a starch based, biodegradable foam chip that can be used as a void fill for protective packaging.  It is biodegradable and completely dissolves in water.
2. FasFil Paper Void Fill Machine – this machine converts fan fold paper into a paper void fill product.  It is completely recyclable and biodegradable. 
If you are using bubblewrap as a protective wrapping, then the best option for you is;
3.  Geami Wrap –  this is a unique recyclable and biodegradable product that performs as a protective, cushioning wrap.  The diecut 3D honeycomb structure forms a cushioning pattern.  Geami wrap comes in a convenient dispenser box.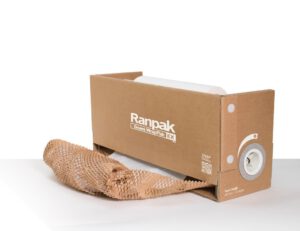 4. Corrugated Board – made from recycled cardboard into a cushioning, protective corrugated cardboard roll.  Available in many different widths and can be easily cut at any length.  Recyclable and biodegradable.  A great option for protective wrapping.
If you are requiring a protective bag, like a bubblewrap bag, but an eco-friendly option, then there are a few options;
5.  Jiffy Padded Mailers – these kraft bags come with a padded filling of recycled paper and tissue. Great bags for sending products in the mail or via couriers.  They have an easy self seal strip.
6. Cardboard Courier Mailers – these cardboard mailers are a great alternative to bubble mailer bags. With a self seal strip across the top.  Made from recycled cardboard.