Description
HIGH PERFORMANCE TISSUE – ACRYLIC DOUBLE SIDED
 High Adhesion & excellent initial tack.
Very good resistance to UV, temperatures (- 40°c to +140°c for short periods), chemicals, solvents & humidity.
Excellent long life durability when attached to metal, plastics, semi porous foam & high surface energy substrates.
Multi-purpose adhesive is suitable for paper splicing, gasket materials, felt, textiles, posters and print finishing applications.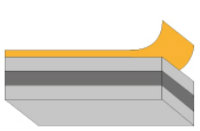 RELEASE LINER: WHITE PE COATED PAPER
ADHESIVE: MODIFIED SOLVENT ACRYLIC
CARRIER:  PAPER TISSUE (Translucent)
ADHESIVE: MODIFIED SOLVENT ACRYLIC
TOTAL THICKNESS: 120 MICRONS
FOR BONDING – SMOOTH TO SEMI-TEXTURED SURFACES HAND TEARABLE
APPLICATION: PERMANENT