Description
3405 Double Sided Tape
FOR GENERAL PURPOSE USE
Made from a strong clear Polyester film which is hand tear able for ease of use.
Excellent initial adhesion power & for long life bonding.
The acrylic adhesive is non-yellowing, PH neutral & photo safe.
The silicone paper release liner is printed "remove to expose adhesive".
Excellent for laminating, mounting & various lightweight attachment applications.
For general bonding onto paper, card, glass & most metals and plastics.
Used in the office, school, home, printing industry, craft & art studios etc.
General Purpose Acrylic adhesive with high initial adhesion & good shear strength.
 Good resistance to UV, extreme temperatures (- 20°c to +100°c), chemicals, solvents, humidity & PH neutral.
Good long life durability when attached to metal, paper, cardboard, glass, most plastics & high surface energy substrates.
Economical bonding as a stationery, craft & office d/sided, for versatile use in the print finishing market.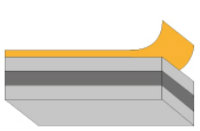 RELEASE LINER: White Silicone Paper with red writing – "Remove to Expose Adhesive"
ADHESIVE: DISPERSION ACRYLIC
CARRIER:  CLEAR POLYESTER FILM
ADHESIVE: DISPERSION ACRYLIC
TOTAL THICKNESS: 065 MICRONS
FOR BONDING – SMOOTH SURFACES
HAND TEARABLE
APPLICATION: PERMANENT