Description
PREMIUM TISSUE – ACRYLIC ADHESIVE DOUBLE SIDED


Powerful High Adhesion & excellent initial tack.
Excellent resistance to UV, extreme temperatures (- 40°c to +140°c), chemicals, solvents, plasticizer & humidity.
Excellent long life durability when attached to metal, rubber & foam substrates, EPDM foams & high surface energy substrates.
Aggressive adhesive is suitable paper splicing, bonding difficult surfaces such as textiles, wood, polyethylene, open-pore surfaces.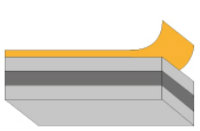 RELEASE LINER: SILICONE PAPER
ADHESIVE: MODIFIED DISPERSION ACRYLIC
CARRIER:  PAPER TISSUE (Translucent)
ADHESIVE: MODIFIED DISPERSION ACRYLIC
TOTAL THICKNESS: 160 MICRONS FOR BONDING – SMOOTH TO STRUCTURED / ROUGH SURFACES HAND TEARABLE
APPLICATION: PERMANENT